Environmental sustainability, whether termed as "more durable" or "lower maintenance," in the past, has always been integral to Walgreens building construction. Today, however, we are proud to be leading environmental sustainability efforts.
For example, in partnership with the US Department of Energy, Walgreens has committed to reducing energy usage intensity 20% by the year 2020.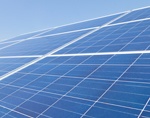 Walgreens has taken a number of steps towards this goal, from retrofitting open front coolers with doors to the installation of LED lighting throughout the store and site. We have many new stores throughout the country that are receiving an LED package, and have one store in Goodyear, AZ that has been operating with LED lighting since November 2012. More about the Goodyear, Arizona store can be found here.
Walgreens also leads the movement into solar for retail facilities. With 150 installations to date and another 200 in process, Walgreens seeks to become the leader in number of installations in the country. A typical installation provides up to 20% of a buildings energy needs.
Our latest foray into green building has pushed innovation to the limits. Our net zero energy designed store in Evanston, Illinois combines all the initiatives we have done around the country into one location and pushes those technologies further than we have ever taken them.
Designed to produce more energy than it consumes, this store features: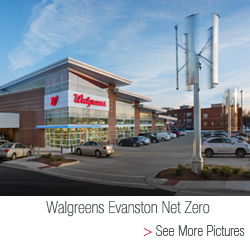 849 solar panels and 2 vertical axis wind turbines
Directional LED lighting that reduced our lighting energy usage by nearly 30% while still maintaining the proper light levels on products
Daylight harvesting with 5 dimming zones
Special window film that diffuses and redirects daylight to enhance daylight harvesting
A state of the art mechanical and refrigeration system that includes (8) 550' geothermal bore holes and carbon dioxide as the refrigerant
Low flow water fixtures and natural and adaptive plant species which require no water for irrigation
Underground stormwater chambers that capture nearly all rainwater on site and allow it to percolate back into the earth
More about our Evanston store can be found here: http://www4.eere.energy.gov/challenge/showcase/walgreens/retail-pharmacy-evanston
Although was our biggest initiative to date, it is only another milestone for Walgreens as we try to minimize our environmental impact to help our customers get, stay, and live well. Stay tuned for more to come!